Books in Review: April
This post takes 2 minutes to read
Here's the April prompts for The AusYABloggers Reading Challenge.
The Astonishing Colour of After - Emily X.R. Pan
read for the prompt Biracial protagonist
The Astonishing Colour of After is an incredible, lyrical story dealing with grief in a uniquely beautiful way. Leah is half Taiwanese, half white American but knows very little of her mother's family or home country. It is a topic her parents will not discuss. After her mother's death by suicide, Leah is visited by a large red bird - her mother - and embarks on a journey to discover the truth of her mother's past. Pan's remarkable writing is perfectly suited to the heart-wrenching exploration of grief and the touch of magic realism.
Forest - Sonya Hartnett
read for the prompt Animal Companion
Sonya Hartnett expertly delivers a tale told from the perspective of a cat and his kitten siblings, who unexpectedly find themselves dumped in a forest. With her usual finesse she builds a story full of dark atmosphere, deep emotional resonance and a hint of hope for the future.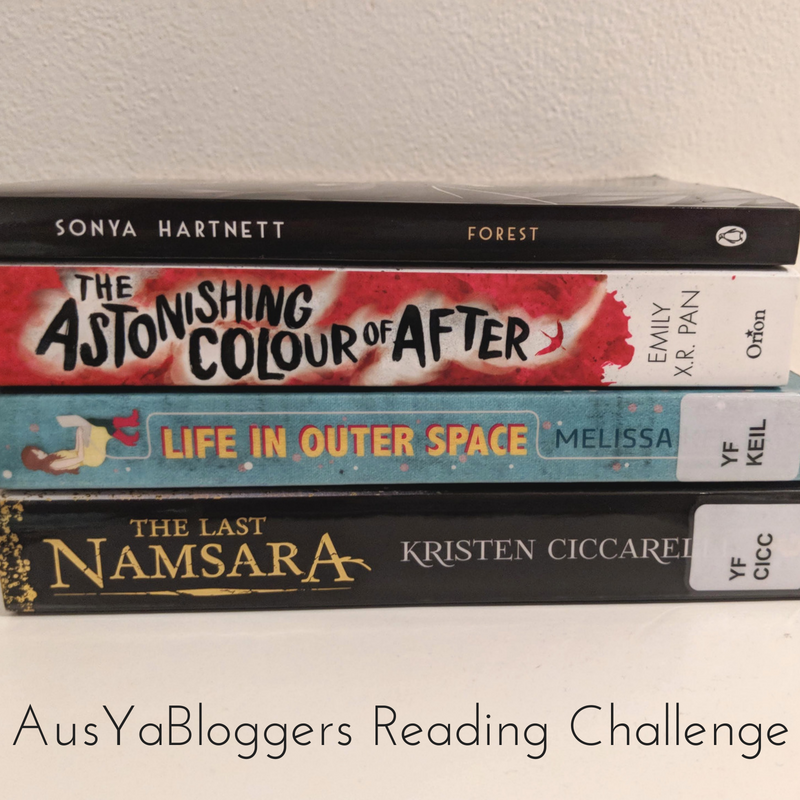 The Last Namasara - Kristen Ciccarelli
read for the prompt Dragons, Dragons everywhere
An exciting fantasy debut, The Last Namasara is filled with creative world building, kickass characters and, of course, a whole lot of dragons. Asha, daughter of the King, is the Iskari. She lives a lonely life, hunting dragons as atonement for the evil she committed as a child. But when she is offered a chance at final atonement, and freedom from a future married to a cruel commandant, she sets out on a journey that will unravel everything she believes about the world and about herself.
Life in Outer Space - Melissa Keil
read for the prompt #LoveOZYA ~ First Love
Sam has a carefully thought out understanding of how the world works and his place in it. He's a 16 year old geek, obsessed with movies and comfortable with his small group of equally 'outsider' friends. Then Camilla shows up, super cool with a famous father and multiple minor celebrity encounters; Sam assumes she is his antithesis, but Camilla has other ideas. The story follows Sam as he struggles to work out how how to be a good friend and a good son as well as how to deal with falling in love.