Books in Review: January
This post takes 2 minutes to read
This year I am participating in The AusYABloggers Reading Challenge. The Reading Challenge consists of four prompts each month, with one prompt specifically for #LoveOZYA or #LoveNZYA. I'm going to post a mini-review of each of the books I read as part of the challenge. Here's what I read for January.
The Moonlight Dreamers - Siobhan Curham
read for the prompt First in a series
The Moonlight Dreamers follows the stories of four girls as their lives intersect. It is the first in a contemporary series; the sort of book I loved as a teen, and adult me quite enjoyed it. I particularly liked the distinct characteristics of each girl, and the genuine, individual relationships that developed between each of them.
Ida - Alison Evans
read for the prompt Non-binary, Genderfluid or Genderqueer point of view protagonist
Ida is a fascinating sci-fi novel which explores parallel universes and time travel. Ida believes she can rewind time and make different decisions: preventing anything from spilt coffee to deadly car accidents. But it becomes clear the nature of her ability is not what she thinks it is, and the consequences of her actions are potentially catastrophic. On top of all this, Ida is struggling with post-high school lack of direction, as well as attempting to nurture relationships with the people important to her.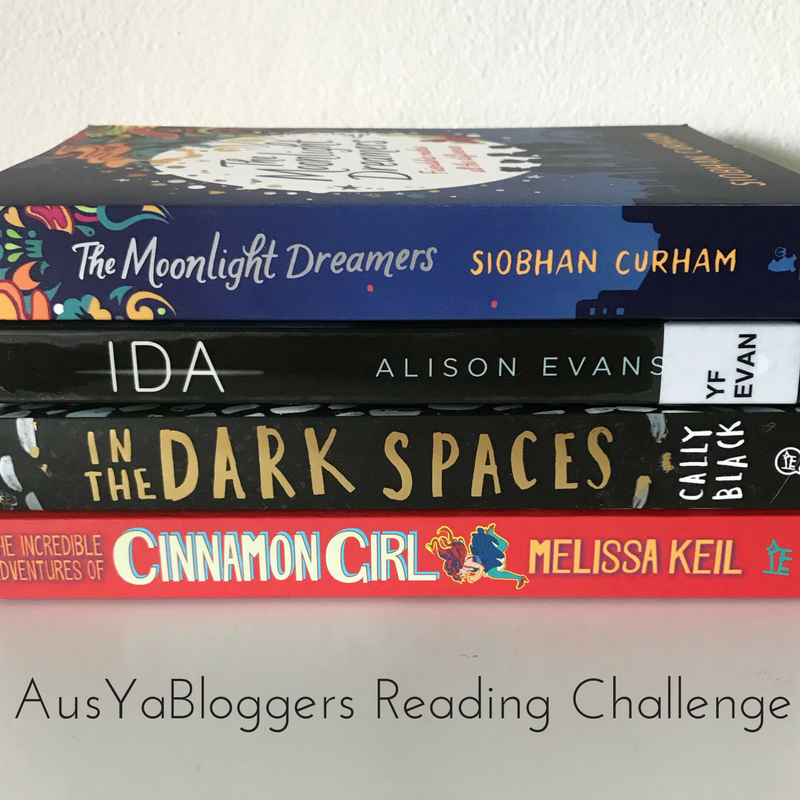 The Incredible Adventures of Cinnamon Girl - Melissa Keil
read for the prompt Supportive friends
The Incredible Adventures of Cinnamon Girl is an adorable #LoveOZYA story filled to the brim with excellent comic book references. High school has ended: Alba is uncertain about her future, while all her friends seem to have everything planned out. On top of this, a self-proclaimed prophet has gone viral claiming her town, Eden Valley, will be the only safe place during the imminent end of the world, All kinds of people descend, chaotic setting in which Alba navigates friendships, relationships and the difficult moment in life between adolescence and adulthood as life changes.
In The Dark Spaces - Cally Black
In The Dark Spaces is an incredible story that explores how we engage with the world, responding to the opportunities for both causing harm and showing empathy. It tells the story of Tamara, who struggles with the price of survival after she is kidnapped by an alien race in conflict with human space exploration. An original and compelling #LoveOZYA sci-fi debut.
read for the prompt #LoveOZYA ~ Amongst the Stars
If you're doing the AusYaBlogger Reading Challenge, let me know which books you read.