Books in Review: July
This post takes 2 minutes to read
I am so bad at this. In July I finally caught up on the prompts and was ready on time with a draft post and then ... just didn't post it?
Anyway here are my July prompts for The AusYABloggers Reading Challenge. August through October coming soon (I hope).
When It's Real - Erin Watts
read for the prompt A book by two or more authors
A fun and heartfelt romance, When It's Real delivers everything you want from the fake dating trope. Written by the writing duo known as Erin Watts, When It's Real is a fun and heartfelt romance that delivers everything a reader could want from a fake dating story. Oakley Ford is the stereotypical teen popstar who parties hard, except he wants his music taken seriously. His team devises the obvious plan - date someone real and wholesome. Enter Vaugh Bennett, a regular teen girl who is in no way impressed by Oakley's fame and thinks he's an arrogant jerk. In need of money to support her struggling family, Vaugh accepts the role of fake girlfriend. Drama and angst ensue.
Saving Francesca - Melina Marchetta
read for the prompt A character you identify with
Saving Francesca is a LoveOZYA classic, from Australian treasure Melina Marchetta. Francesca moves from a comfortable, safe existence at her all-girls school to a perilous new reality, as one of few girls attending St Sebastian's as the school transitions to co-ed. She must navigate new friendships, coming to terms with her own identity and her new school life, all the while her family and homelife seem to be falling apart. Melina Marchetta is an expert and taking the reality of everyday, regular life - the joy and pain - and crafting an intensely emotional reading experience.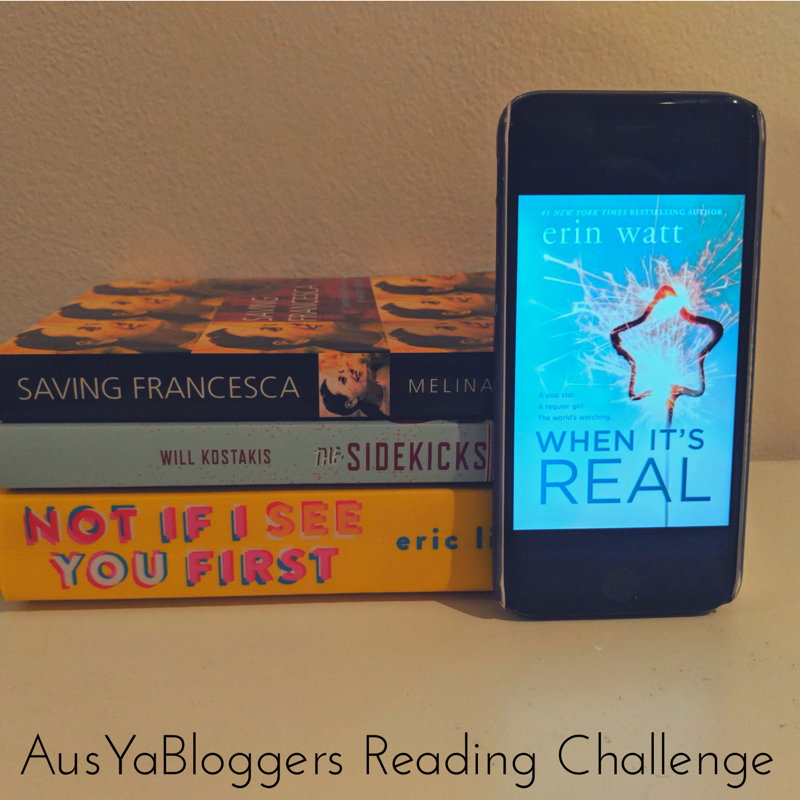 Not If I See You First
read for the prompt Visually impaired protagonist
In Not If I See You First Parker Grant is a teenager dealing with a difficult situation. Her father has died and her aunt (along with husband and kids) has moved in. New family means being treated differently - her aunt and family don't understand that being blind doesn't make Parker incapable. Then Scott, the boy who broke her heart (and her rules) turns up at her school. Parker has very strict rules, and she doesn't forgive mistakes. But as she navigates her new reality, she begins to learn things aren't always black and white.
The Sidekicks -Will Kostakis
read for the prompt #LoveOZYA/NZ: Gay protagonist
Told in three parts, each from a different point of view, The Sidekicks is the story of three very different boys dealing with the death of their best friend. As each grapple with their grief in different ways, it tears at both their sense of identity and of community. Kostakis weaves three grief journeys together in a beautiful depiction of the intensity of teenage relationships, demonstrating the rich potential young men have for deep and complex emotion and the importance of being given the space to feel.