Books in Review: June
This post takes 2 minutes to read
June prompts for The AusYABloggers Reading Challenge.
Simon vs the Homo Sapiens Agenda - Becky Albertalli
read for the prompt A book adapted for film or television
An incredibly sweet YA novel, Simon vs the Homo Sapiens Agenda tells the story of sixteen-year-old Simon as he navigates his junior year. Simon also deals with complex shifting friendship dynamics, a secret online romance and parents who are overly enthusiastic about his life. And that's before the wrong guy starts blackmailing him: if Simon doesn't help Martin get a date, everyone will find out Simon is gay. The story that follows is full of humour, navigating the tricky reality of modern day adolescence and delivers a heartwarming reading experience.
Children of Blood and Bone -Tomi Adeyami
read for the prompt Heroes and Villains
Children of Blood and Bone is a debut fantasy novel rich with magic and vivid imagery. Zelie Adebola comes from a line of maji, she has lived through the murder of her mother and the destruction of magic and maji by the king and his army. The story is told from multiple perspectives: Zeli, runaway princess, Amari, and her brother, prince and army commander, Inan. The story follows Zelie and her companions' perilous journey pursued by Inan and his soldiers. Zeli, her brother and Amaria, attempt to bring back magic and end the violent oppression of her people; Inan's goal is to bring his sister back and ensure magic's destruction will never return to their kingdom.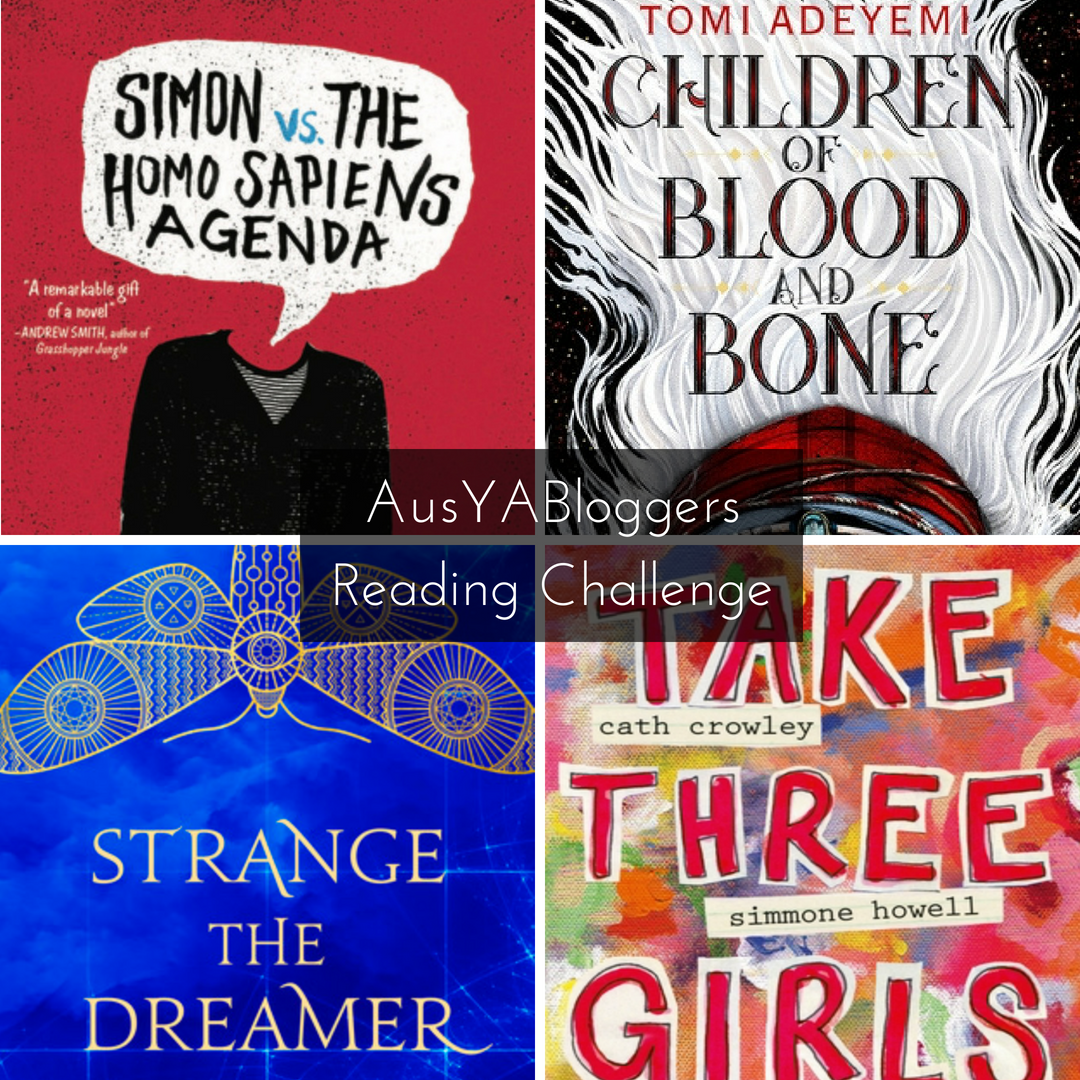 Strange the Dreamer - Lani Taylor
read for the prompt Faith or spirituality
As with all Lani Taylor's work, Strange the Dreamer is an intensely lyrical and intricate fantasy story. Lazlo Strange is orphaned in a war and raised in a monastery. The story begins when he is sent on an errand to the library and doesn't return. He is a junior librarian when the Godslayer arrives from Weep, the mythical land Lazlo has spent his life researching and dreaming about. Lazlo joins the unusual expedition to return to Weep and help with an unknown problem.
An incredibly intricate and expertly built adventure follows, filled with mysteries that Lazlo must uncover.
Take Three Girls - Cath Crowley, Fiona Wood and Simmone Howell
read for the prompt #LoveOZYA/NZ: Bisexual protagonist
Take Three Girls follows Ady, Clem and Kate, three completely different teenage girls, who are each targeted by a malicious gossip site PSST, a site on which predominantly female private school students are slut-shamed by anonymous posters. In an attempt to address the harassment of their students, the all-girls school develops a wellness program that forces Ady, Clem and Kate into an unlikely group that slowly develops into an unlikely friendship. The story follows each girl as they deal with issues both in the past and present, and find a way forward. Take Three Girls deals with issues of bullying, misogyny, sexuality, friendship, and feminism in a real and relatable way.