Books in Review - March
This post takes 2 minutes to read
There will be a few of these posts this month as I'm almost caught up on the past three months. Here's the March prompts for The AusYABloggers Reading Challenge.
The Beast's Heart - Leife Shallcross
read for the prompt Mystical beings
The Beast's Heart is retelling of Beauty and the Beast from the Beast's perspective. It is incredibly well written, filled with vivid and detailed description. The story explores the thoughts and feelings behind the Beast's actions in the familiar story, as well as building his backstory. It also delves into the lives of Isabeau's family during her time at the Beast's castle,particularly examining her sisters' attempts to live without her alongside budding romances, as well as her father's grief for his lost daughter.
Obsidio - Amy Kaufman and Jay Kristoff
read for the prompt Last in a series
Obsidio is the final installment of The Illuminae Files by Amie Kaufman and Jay Kristoff. In addition to continuing the stories of Kady, Ezra, Hanna and Nik, Obsidio adds Asha and Rhys, two people on opposing sides of a war, challenging the black and white rhetoric of war. In this conclusion to The Illuminae Files, the threads of the series are tied together to draw satisfactory conclusions (though with a rather high death toll). As in Gemina illustrations by Marie Lu are also part of the format.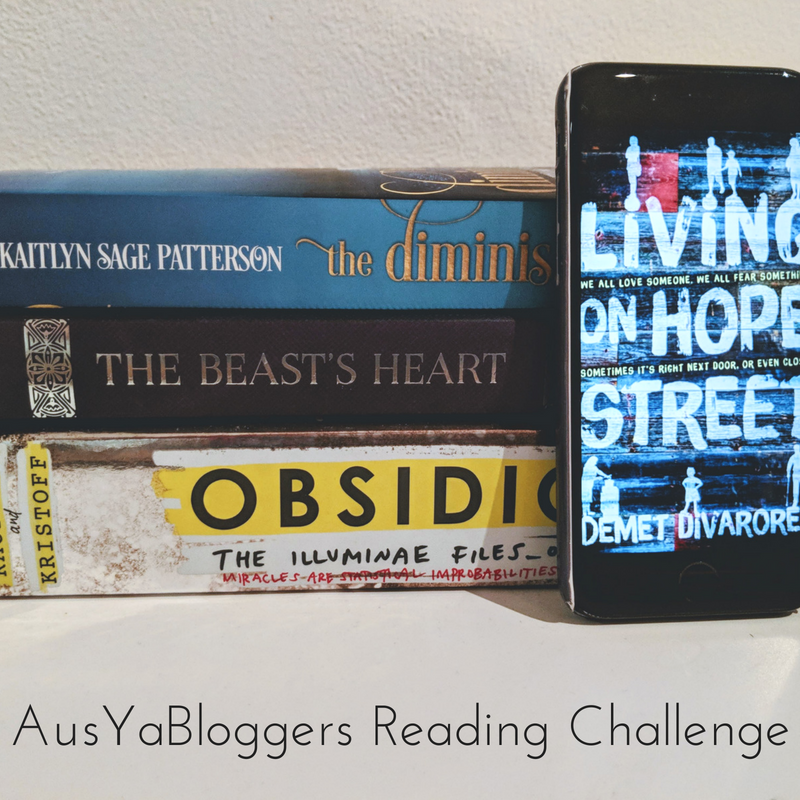 The Diminished - Kathryn Patterson
read for the prompt Twinning
The Diminished is set in an expertly crafted fantasy world in which everyone is a twin. When one twin dies, the other also dies: either from grief or by execution following them undertaking a murderous rampage. The story follows two characters, Vi - a diminished girl raised in a temple after the death of her twin as an infant, and Bo, one of rare singleborn, who is heir to the Queen. Both begin to discover there is more to their world than they realise, and embark on an adventure that could change everything.
Living on Hope Street - Demet Divaroren
read for the prompt #LoveOZYA ~ Muslim Protagonist
Living on Hope Street presents multiple points of view that creates a patchwork narrative that shares snapshots of the lives of different families living on the same street, from young children Sam and Kane who are are afraid of their abusive father; to elderly Mr Bailey who is afraid of refugees; Mrs Aslan wants to make amends for the past and Gugu's family are trying to create a new, safe, future. Despite the multiple points of view, each character is multi-dimensioned and flawed, relatable as real human beings.