Review: Beverly, Right Here by Kate DiCamillo
This post takes 3 minutes to read
Beverly, Right Here - Kate DiCamillo
Thanks to Walker Books for providing me with a review copy.
Synopsis
Beverly put her foot down on the gas. They went faster still.
This was what Beverly wanted — what she always wanted. To get away. To get away as fast as she could. To stay away.

Beverly Tapinski has run away from home plenty of times, but that was when she was just a kid. By now, she figures, it's not running away. It's leaving. Determined to make it on her own, Beverly finds a job and a place to live and tries to forget about her dog, Buddy, now buried underneath the orange trees back home; her friend Raymie, whom she left without a word; and her mom, Rhonda, who has never cared about anyone but herself. Beverly doesn't want to depend on anyone, and she definitely doesn't want anyone to depend on her. But despite her best efforts, she can't help forming connections with the people around her — and gradually, she learns to see herself through their eyes.
In a touching, funny, and fearless conclusion to her sequence of novels about the beloved Three Rancheros, #1 New York Times best-selling author Kate DiCamillo tells the story of a character who will break your heart and put it back together again.
---
Review
People often believe writing for children is easier than writing for adults. Not only that it's easier but that it is easy: simple; straight forward. This book demonstrates such beliefs are clearly wrong. Reading Beverly, Right Here is easy, simple and straight forward. But the writing deep complex and, quite clearly, masterful writing.
It is an elegant example of the deceptive simplicity of writing for children.
Beverly, Right Here is the third and final book in Kate DiCamillo's Three Rancheros series. The first two books, Raymie Nightingale and Louisiana's Way Home focus on Beverly's two best friends (Raymie and Louisiana respectively). Together the series navigates friendship, community, learning who you are and who you might want to be. Kate DiCamillo provides a gentle way to explore hard and painful circumstances that end with a sense of hopefulness. You can read my Goodreads review of the first two books here (Raymie Nightingale and Louisiana's Way Home).
Beverly's story picks up a little after Louisiana's Way Home, when the girls are fourteen. Beverly has always been prickly and brutally honest. She's been abandoned by her father and neglected by her alcoholic mother. Burying her dog Buddy prompts her to leave home, hitching a ride with her cousin before stopping in a beachside town. She gets a restaurant job, finds herself a reluctant house guest of the elderly Iola and begrudgingly interested in a friendship with Elmer who works at the grocery store.
The story unfolds in a slow and deliberate way, teasing out the nuances of Beverly's seemingly simple interactions. Much of the story is internal, and Beverly's suffering is quite emotionally devastating to read about. However the story is also charming, humourous and uplifting. Gradually Beverly's defences are chipped away, and she finds courage to rely on others, and herself.
With Kate DiCamillo writing, simple is powerful and the result is a story that, like Raymie Nightingale and Louisiana's Way Home, is both heartbreaking and heartwarming, leaving you with the sense of experiencing something profound.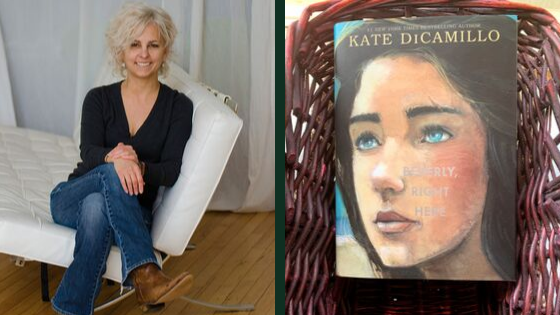 You can find out more about Kate DiCamillo via her website.