Review: Girl of the Southern Sea by Michelle Kadarusman
This post takes 3 minutes to read
Girl of the Southern Sea by Michelle Kadarusman
Published by University of Queensland Press
Add on StoryGraph
Buy Online
This post is part of the Aus YA Bloggers Blog Tour and a copy of the book was provided by the publisher.
Synopsis
A gifted student, Nia longs to attend high school so she can follow her dream and become a writer. She has notebooks filled with stories she's created about the mythological Dewi Kadita, Princess of the Southern Sea. But her family has barely enough money for food, let alone an education, so Nia's days are spent running their food cart and raising her younger brother.
Following a miraculous escape from a bus accident, Nia is gifted with good-luck magic. Or at least that's what everyone's saying. Soon their family business is booming and there might even be enough money to return to school. But how long can her good luck last?
When a secret promise threatens everything she's hoped for, Nia must find a way to break the mould and write her own future.
Review
Girl of the Southern Sea is the second Michelle Kadarusman book I've read (the first being the incredible The Theory of Hummingbirds), and I will certainly be adding her to my list of must-read authors. Her writing draws on personal connections to stories, and explores complex realities in the world in a way that is sensitive and compelling for younger readers.
Girl of the Southern Sea is aimed at slightly older readers than The Theory of Hummingbirds, although in my opinion both are suitable for a broad middle grade audience. Nia, the protagonist, is a determined and resourceful fourteen year old who is struggling with an unfair load of responsibilities for someone her age. The plot escalates through increasingly difficult problems Nia must contend with beginning with her sadness at being unable to attend high-school due to her family's poverty, and growing as her bapak's grief-fuelled alcoholism forces her to shoulder more and more of his responsibilities towards their family.
Despite Nia's painful circumstances and heavy burdens, Kadarusman does a wonderful job of maintaining Nia's youthful characteristics in the face of adult responsibilities. I particularly loved the nuanced way Kadarusman depicts Nia's unwavering determination to go to high school, her desire to take care of her brother, and her struggling relationship with her father. While depicting Nia as a character whose life course is constantly being defined by the needs, difficulties, and short-comings of those around her, Kadarusman never loses sight of Nia's nuance and personality. When writing a young female character grappling with a difficult life, authors will too-often allow the characters circumstances and relationships to stand in place of an internal world. Despite both of these elements being well developed, Nia's individuality shines the strongest in her writing, particularly in her own imagining of the legend of Nyai Roro Kidul (Dewi Kadita), and how that helped her maintain a strong belief in herself.
Kadarusman drew on her childhood visits to her father's home village in Indonesia as well as her experience living there as an adult, and this emotional connection translates through the text into a vibrant setting with a strong sense of place, not just in the visual imagery but in the emotional connections of community and culture that shine through her descriptions. The setting of the story becomes one of the many fabulous characters, whose individual complexities and desires intersect with Nia's own throughout her journey. It is Nia's community who encourages her to stand up for herself, and empower her to go after her dreams. While many of the problems Nia faces are experienced by girls from all different countries, including western ones, the culture and setting she belongs to are unique and depicted with a loving touch. At the same time, the issues Nia faces were written in a way that is understandable to young readers and could resonate with anyone across the world.
Overall, Girl of the Southern Sea is a beautifully written story of a young girl discovering her own power.
Don't forget to check out the other tour stops.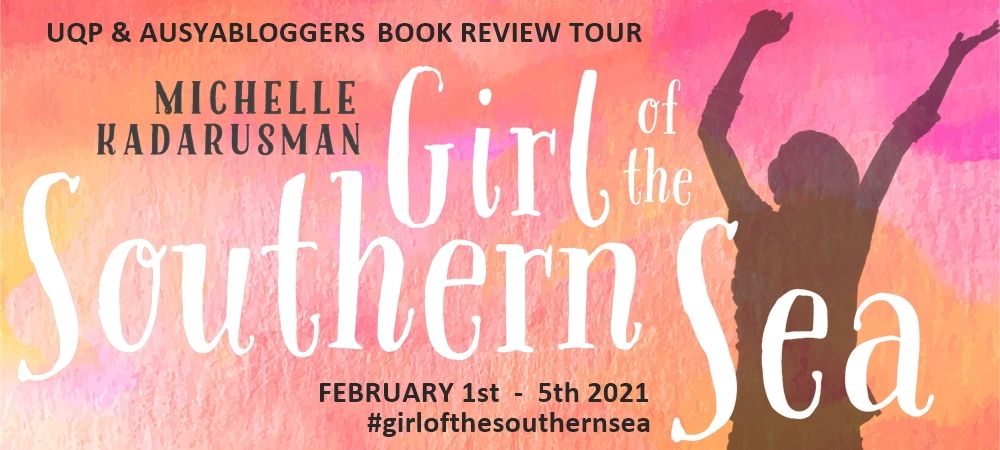 ---
Michelle's first middle grade novel The Theory of Hummingbirds was nominated for the OLA Silver Birch Express, MYRCA Sundogs and SYRCA Diamond Willow awards. Her novel Girl of the Southern Sea was a 2019 Governor General's Award finalist, USBBY Outstanding Book and Freeman Book Award Honorable Mention. Her new novel, Music for Teens, released in 2020.

Michelle grew up in Melbourne, Australia and has also lived in Bali, Surabaya and Jakarta in Indonesia. She currently lives in Toronto, Canada. You can follow her online via Twitter, Instagram, Facebook and Goodreads.