Review: Nevermoor by Jessica Townsend
This post takes 3 minutes to read
I'm not sure how anyone would have managed to not hear about Nevermoor this year. It's been everywhere: gorgeous bookstore displays, gushing reviews, not to mention a pre-publication movie deal and serious international attention. The level of hype made me nervous of disappointment because, at first glance, Nevermoor is everything I want in a book (middle-grade fantasy adventure is so my wheelhouse). Sometimes a book is so hyped it seems inevitable the reality of reading the book will fail my expectations. A few pages into Nevermoor so completely sucked me into the story that such fears disappeared.
I always find comparisons to Harry Potter a bit annoying. Nevermoor is not Harry Potter (no book will ever be Harry Potter because the moment and context has already happened). This is not to say other stories aren't amazing or important, or that other culture-changing moments won't happen, but they won't be the same.
I understand the impulse to call Nevermoor 'the next Harry Potter', as there is something in the style of writing, and the feeling it gives you, that has similarities. But rather than compare to Harry Potter, I'd say reading Nevermoor had the same sense of enchantment that reading a Dianna Wynne Jones story brings.
The book tells the story of Morrigan Crow, a girl born on Eventide, who's fated to die at midnight on her ninth birthday. She is spared when rescued by a mysterious stranger, and after they are chased by black-smoke hounds and shadowy hunters on horseback, they escape to a secret city called Nevermoor. Morrigan's rescuer, Jupiter, owns the eccentric Hotel Deucalion and has chosen Morrigan to contend for a place in the city's most prestigious society. The young girl must compete in four difficult and dangerous trials against hundreds of other children, each boasting an extraordinary talent
The tone is utterly charming, the story well-crafted, and the overall story completely delightful. The whole book sparkles with magic.
I loved Morrigan; she's a great heroine in a line of fabulous and unique young girl characters. She's curious, with a wicked sense of humour and an appealing vulnerable streak that she protects fiercely from exposure. The concept of cursed children was fascinating and Jessica Townsend did an excellent job of showing the unfairness of Morrigan's treatment without exposing what was truly curse and what was the product of people's beliefs about her cursed status.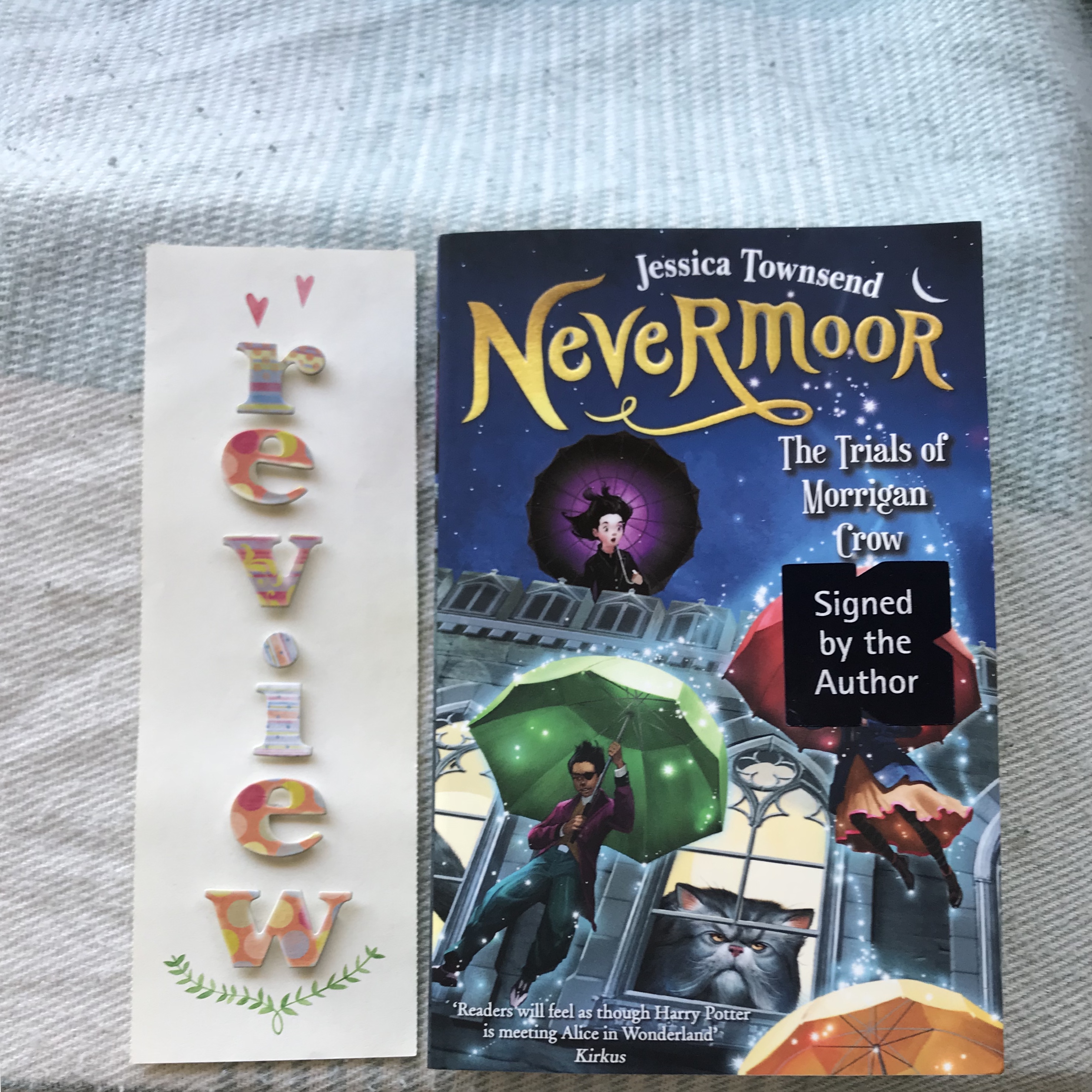 Jessica Townsend has serious world-building skills. The city of Nevermoor is described in vibrant detail, I utterly immersed myself in the world she creates, especially the Hotel Deucalion. The trials of the Wundrous Society are expertly crafted to progress both the plot and the reader's sense of the world Morrigan navigates. I loved the cast of characters and depictions of how Morrigan interacted with them. The magic and delight of the story provides readers opportunities to engage with more serious issues, as the story engages with concepts such as the control of borders. I'm so excited to read more Trials of Morrigan Crow and see how Morrigan grows.
A lot of marketing went into the success of Nevermoor, you can tell the team at Hachette worked really hard on it, and did an amazing job. But the book completely backs up their work and absolutely deserves the attention it is getting.
I highly recommend reading Nevermoor regardless your age. It's a truly magical reading experience.