Review: P is for Pearl by Eliza Henry Jones
This post takes 3 minutes to read
P is for Pearl - Eliza Henry Jones
I did receive a copy of this from the publisher on NetGalley, but bought a copy for book club anyway.
Synopsis
Seventeen-year-old Gwendolyn P. Pearson has become very good at not thinking about the awful things that have happened to her family. She has also become used to people talking about her dead mum. Or not talking about her and just looking at Gwen sympathetically. And it's easy not to think about awful things when there are wild beaches to run along, best friends Loretta and Gordon to hang out with - and a stepbrother to take revenge on.
But following a strange disturbance at the cafe where she works, Gwen is forced to confront what happened to her family all those years ago. And she slowly comes to realise that people aren't as they first appear and that like her, everyone has a story to tell.
---
P is for Pearl is Australian author Eliza Henry Jones' first Young Adult novel. It was released in February last year. The book is a masterfully written, evocative and emotional novel. It is one of those books that you can read simply for the beauty of the writing. Her descriptions of the characters and the relationships between each other and the place they inhabit are interesting and compelling.
I read this last year as the April book for the Young at Heart book club, and wrote half this review before life got in the way. Recently I recommended it to my mum as a good book for a friend of hers and it reminded me to come back to my draft and finish it. It's been over a year, but I still remember the visceral feeling of reading it: the moments of recognition, the heart wrenching prose, the aching familiar atmosphere.
Reading this book was like driving along coastal Tasmania. Beautiful green scenery, interesting details dotted along the landscape and then bam. You turn a corner or go over a hill and there is the ocean. Wide blue. It takes your breath away; you can feel it's awesome power in your chest and in your bones.
The writing is quiet yet gripping. It is perfectly crafted, building small tensions into the Tasmanian coastal town where the story is set. I knew exactly where I was before it was explicitly mentioned, and I actually looked up whether Eliza Henry Jones was from Tasmania (she's not) because it felt so real.
Eliza Henry Jones builds her story slowly, almost painstakingly. Through the little moments that make up life she explores grief and coming of age as intertwined. Gwen must deal with working out what she wants to do with her life as she nears the end of high school as well as absorb the swell of memories about her mother, gauge the reliability of memories formed as a child, and come to understand the grief and also connection to her family's well being that is embedded in the town.
Reading about Gwen and her classmates navigating the end of high school felt just like I was back at school, except they had facebook instead of myspace. The struggle of choosing college classes, the looming potential of separation from friends as students split off in different directions, and the overwhelmingness of being supposed to know what you wanted for the rest of your life. As someone from a complicated, messy blended family, reading about Gwen's relationship with hers, and the complicated interactions, were so familiar.
As a side note, when I was writing this review I wrote that Gwen and her friends were navigating year ten. My mum pointed out in her proofread that they were in year twelve. In Tasmania, unless you go to a private school, high school ends in year ten. You then go to college for year eleven and twelve. Students from smaller towns have to travel to larger more central schools for this. Ultimately I have decided it is a testament to Eliza Henry Jones' skill with this story that I still felt incredible connection to the experience despite this fact.
P is for Pearl is a meaningful and quietly powerful story that meditates on the achingly familiar and painfully common. Eliza Henry Jones deftly navigates the complexities of her characters experiences and connections with life, including grief and mental illness. It's intensely Australian, emotive and beautifully composed. I highly recommend it.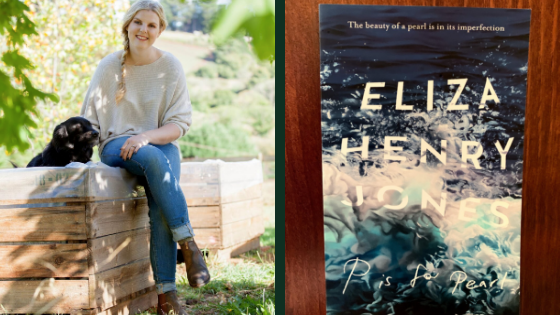 Read more reviews