Review: Rogue by A.J. Betts
This post takes 3 minutes to read
Rogue - A.J. Betts
This review is part of the Aus YA Bloggers Blog Tour and the publisher has provided a copy for review.

Synopsis
There was no going back; there was no choice, anymore. I'd chosen out and this was it: hot-cold, dry-wet, bright-dark and lonely.

Hayley has gone rogue.

She's left everything she's ever known - her friends, her bees, her whole world - all because her curiosity was too big to fit within the walls of the underwater home she was forced to flee.

But what is this new world she's come to? Has Hayley finally found somewhere she can belong?

Or will she have to keep running?
---
Review
The Vault is an Australian YA dystopian duology by award-winning author A.J. Betts, comprised of Hive and Rogue.
A well-crafted duology is a marvellous thing and A.J. Betts has delivered perfectly. With both books I was a little in awe of how compact and detailed she managed to make her world-building. Nothing felt superfluous, every gap that raised questions was ultimately answered. She gives you exactly the amount of information you need.
This post is a review of the second book, Rogue, which has just been released. While I always try to avoid spoilers in my reviews, it's pretty much impossible to discuss Rogue without spoiling Hive. So be warned. If you're not sure you want to read Hive (you should) you can read my Goodreads review.
In Rogue the unfamiliar and distant world of Hive opens up into a bigger, more recognisable world. One that is terrifyingly possible. About a hundred pages in I had to take a small break because it was just a bit too real. Once I was prepared for it though, I couldn't put it down.
Tasmania, now called Terrafirma, features heavily in this new world. Terrafirma is an island prison for drifters, a chilling political system that both calls back to Tasmania's history of colonial genocide, as a penal colony, as well as to current day treatment of asylum seekers by the Australian government, particularly on Manus and Nauru. A.J. Betts does this subtly, there is no need to explain or spell out obvious connections which add significantly to the uncanny reading experience. While Hive was distant, contained and almost alien, the world of Rogue is scarily close and familiar.
Throughout the story, as the world around her expands exponentially, Hayley's curiosity also grows. Her questions in Hive had a secret immediacy. In Rogue, she doesn't know enough to truly keep her ignorance secret, but her questions also become bigger. As she grapples with this strange, in many ways horrifying, new world, the contained and immediate world of the vault takes on a nostalgic sheen. Characteristics that were hinted at as a possibility within her bloom. She has a fierceness that takes both books to fully emerge but doesn't compromise her tenderness.
I enjoyed the difference between the variety of characters that she meets along the way. Each character had their own complexity, difficult choices to make and different relationships to the political system. I think it really showed the complexity of human nature and different kinds of desperation. I found Kid particularly endearing, and his connection to Hayley was lovely and a strong thread in her own growth. Her character development is fast, but not rushed. She has a cautiousness paired with an appealing sincerity that has to adapt to the new reality she finds herself in. Hayley's determination starts out rather naive but doesn't falter as she becomes more aware of the way this world works.
The plot was well paced, I enjoyed Hayley's exploration and how it built in stages, from Maria to Tasmania to the Mainland. There were also so many unexpected twists, I thought for sure Hayley was imagining a few of them. I found the conclusion unexpected, and very satisfying. Rather than attempting to solve the evident and innumerate problems in this new world, she focuses Hayley on small, truly human goal, creating a contained, but powerful story.
Overall this series is an excellent dystopian young adult story, that explores how to navigate working out who you are in a world that doesn't make sense. It asks big questions and is both an entertaining and rewarding reading experience. Highly recommend.
Check out the rest of the blog tour for Rogue here.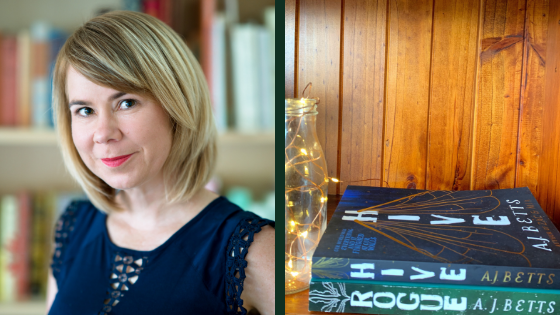 Find A.J. Betts online via her website or on social media: Twitter @a_j_betts or Instagram @ajbettswrites