Review: Starry Eyes by Jenn Bennett
This post takes 3 minutes to read
I am part of the Starry Eyes blog tour - you can find the rest of the tour stops here.
Starry Eyes by Jenn Bennett is published by Simon & Schuster Australian and is available in bookshops now.
---
Synopsis:
Ever since last year's homecoming dance, best-friends-turned-worst-enemies Zorie and Lennon have made an art of avoiding each other. It doesn't hurt that their families are the modern-day version of the Montagues and Capulets. But when a group camping trip goes south, Zorie and Lennon find themselves stranded in the wilderness. Alone. Together.
Zorie and Lennon have no choice but to try to make their way to safety. But as the two travel deeper into the rugged Californian countryside, secrets and hidden feelings surface. Soon it's not simply a matter of enduring each other's company, but taming their growing feelings for each other.
I knew I would enjoy reading Starry Eyes. A contemporary YA that's part Romeo and Juliet, part friends-to-enemies (and enemies-to-lovers), plus teenagers stuck in the wilderness with no choice but to stick together. What's not to love?
It was everything I was expecting. It's well-written, heartwarming and funny. An entertaining, easy read that can be devoured in one sitting. Endearing characters in an adorable romance with a hefty dose of angst. 😍
It was also better than I expected.
Starry Eyes is an incredibly well-executed novel. Every aspect of the story fits together, creating a solid foundation on which to explore a variety of complex threads. Bennett deftly crafts both genuine friendship and the fraught feelings of teen angst with a really sweet romance. Through Zorie and Lennon's journey through the wilderness, the complexities of relationships (friendship, family, romance), loss and the transition to adulthood are all explored. There are also side narratives, such as various events in their past (shared and separate). I wanted to make a pun about not getting lost in the narrative (because of how it's a wilderness survival story) but I couldn't make it work.
Jenn Bennett makes her multiple narrative paths easy to traverse (and not just because of the super cool maps included in the book). While the story is complex, it's incredibly easy to follow.
Though Starry Eyes is told from Zorie's perspective, it's written in a way that clearly shows the subjectiveness of her narrative. There was a great range of characters, all very realistic (read flawed and complicated). It is good to see stories reflecting the diversity of the real world, portraying characters such as Joy and her parents, who are Korean-American, or Lennon's two mums, as complex human beings rather than relying on stereotype or erasing them completely. It felt like there was a whole world inside the story, and each character could easily tell their version. Even the smaller side characters seemed well-developed with their own motivations and complexities.
The myriad of relationships between the characters were great. They explored a lot about how to relate in respectful (or disrespectful) ways[1]. Zorie and Lennon's romance was a good depiction of a respectful relationship, but this also applies to the friendships and the parent-teen relationships in the story.
A huge highlight for me was Zorie's step-mother, Joy. I really loved the way she respected Zorie's need for structure and planning as a legitimate coping method, and encouraged her to use that to do things new and exciting (for example, helping her research and plan to go camping).
There was so much to love about this fabulous book. I'd highly recommend, particularly if you like writers like Stephanie Perkins. I will definitely be picking up Jenn Bennett's backlist.
---
Author
Jenn Bennett is an award-winning author of young adult contemporary romance books, including: Alex, Approximately; Night Owls; and Starry Eyes. She also writes romance and urban fantasy for adults. Her books have garnered multiple starred reviews, won the Romance Writers of America's prestigious RITA® Award, and been included on Publishers Weekly Best Books annual list. She lives near Atlanta with one husband and two dogs.
Twitter: http://twitter.com/Jenn_Benn
Instagram: http://www.instagram.com/j3nn_benn/
Website: http://www.jennbennett.net/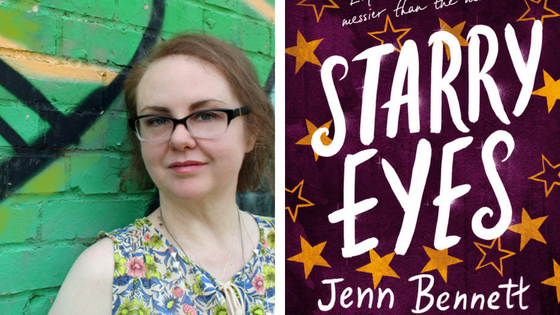 ---
To be clear: by respect I mean treating the other person as an autonomous human being with their own needs and perspectives. ↩︎