Review: Taking Down Evelyn Tait By Poppy Nwosu
This post takes 3 minutes to read
Taking Down Evelyn Tait - Poppy Nwosu
This review is part of the Aus YA Bloggers Blog Tour and the publisher has provided a copy for review.

Synopsis
Impulsive Lottie – heavy-metal fan, expert tomato-grower and frequent visitor to the principal's office – is in even more trouble than usual.
Her best friend Grace has dropped an unlikely bombshell: she's dating Lottie's mortal enemy, good-girl Evelyn Tait.
Studious Jude, the boy next door, has the perfect war plan. Lottie will beat Evelyn at her own good-girl game, unveiling Miss Perfect's sinister side in the process.
Taking life more seriously starts as fun, but soon offers its own rewards . . . so long as Lottie can manage gorgeous Sebastian's sudden interest, Jude acting weird, and the discovery that she might actually be good at something.
Taking Down Evelyn Tait is a story about family, friends and embracing who you are. Even if that person is kind of weird.
---
Review
Australian contemporary YA has a distinct feel to it which is a little hard to describe, but, in my opinion, they are some of the best stories you can read. Taking Down Evelyn Tait is a clear example of this. It is well-written, immersive, with characters that grab you and a meaningful story full of heart.
Taking Down Evelyn Tait is told from Lottie's perspective, and her frenetic energy immediately jumps off the page. She's funny, mischievous and so full of feelings. You can't help but love her, even as she clearly exacerbates her father and teachers (not completely without cause). Lottie's character arc is really well done, she starts out an endearing mess: full of emotions, a little bit let down by adults and occupying that space teenagers inhabit where they start to see themselves as adults but aren't quite aware yet that other people also have experiences and feelings they aren't privy to (aka you are not actually the centre of the universe). I love books that explore this aspect of adolescence because it's something I really vividly remember learning as I grew up. I also really liked how the book showed that adults don't always get things right either. Even though Lottie was an impulsive and distracted student, her teachers and parents don't seem to quite know how to support her.  
One of the real highlights of the story is the family element. You absolutely feel for Lottie in her experiences of a new blended family, and I thought Poppy did an excellent job of validating this, while also moving towards Lottie understanding her perspective isn't the only one. I appreciated how she fleshed out Evelyn, so it wasn't just she's misunderstood by Lottie - they're both in the wrong in so many different and understandable ways. Blended family dynamics are complicated, and I think this is explored with nuance and provided a lot of depth to the overall story.
There is a lot to love in this story, but I won't go into more details, as you should read the book! I will definitely be picking up a copy of Poppy Nwosu's first book, as I really enjoyed her writing.
Check out the rest of the blog tour here.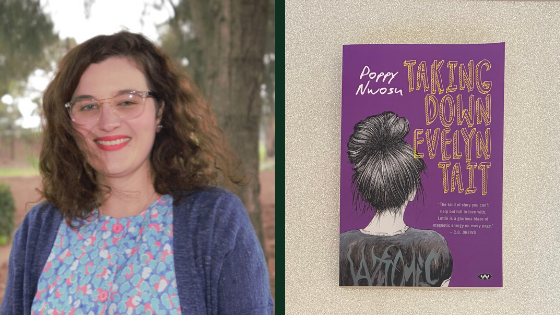 Poppy Nwosu is an author of YA fiction.  Her debut novel, Making Friends with Alice Dyson, was shortlisted for the 2018 Adelaide Festival Unpublished Manuscript Award, and the 2019 Readings Young Adult Book Prize, and will be published by Walker Books US in America in 2020. She was also awarded the 2019 Writers SA Varuna the Writers' House Fellowship for Young Writers.
Growing up in central North Queensland, Poppy enjoyed a thoroughly wild childhood surrounded by rainforest and cane fields. After studying music at university, she moved overseas to Ireland, where she spent two years visiting stunning Europe.  These days Poppy and her husband still love to travel, but they also like to come home again to their house in Adelaide near the sea. Poppy's quite obsessed with stories, books, movies, writing and music.