Review: The Hadley Academy for the Improbably Gifted by Conor Grennan
This post takes 3 minutes to read
The Hadley Academy for the Improbably Gifted - Conor Grennan
Thanks to HarperCollins for providing me with a review copy.
Synopsis
Growing up isn't always easy… and most of us aren't tasked with saving the world. From New York Times bestselling author Conor Grennan comes the adventure-packed and highly entertaining middle grade fantasy debut, The Hadley Academy for the Improbably Gifted.
Jack Carlson is dreading a class presentation when he suddenly finds himself transported to the Hadley Academy, a secret institution that tracks teens with unlikely gifts and trains them to protect the world from an elusive squad of killers. But Jack isn't the only one who doesn't know what he's doing at Hadley. Despite indications that he is the one prophesied to end the ancient Reaper War, Jack appears to have no extraordinary abilities.
When dark, mysterious forces grow, Hadley is in a confused panic. Much to everyone's dismay, humanity seems to depend on Jack and his new teammates. Can Hadley's rawest recruits push past personal struggles and enormous doubts to develop their dormant powers and stop the spreading evil? And are they willing to commit to the Hadley motto, "One Life for Many," and make the ultimate sacrifice?
---
Review
The Hadley Academy for the Improbably Gifted by Conor Grennan is a middle-grade novel that is action-packed and full of twists and turns.
Overall I found this to be the sort of story that was reasonably enjoyable, but there were enough little things that I found frustrating that I am not certain I'd recommend it. I think most of these were things that might not be noticed by or frustrate children, and as it is a middle-grade story, I assume it is a story the intended audience would enjoy reading.
There was an interesting range of characters, and I liked that each of them had a thought-out background story and that everything connected in an unexpected way. The concept of the story is very intriguing, and the history of Hadley Academy and the improbably gifted was an original and intersting concept. This history was interspersed through the story really well, giving the right amount of additional information as the reader needed it. The author did a good job of packing in a complex plot that also concluded well and still hinted at the future.
My main frustrations were that I didn't quite connect to the characters, and I'm a little tired of the chosen one trope. I had thought it sounded like this might be an interesting take on the trope, but it wasn't and ended up pretty clichéd in places. There was also some tension through the book where I felt the story was trying to impart a message of teamwork and collectiveness but was so wedded to individualism as an underlying ideology that it didn't quite work. But obviously, don't know what the author actually intended, and it could just be me.
I think I would have prefered this to be more than one book, and with a little more space taken to develop each character. There was just so much going on, and while I think it did hold together and works as a single book, there was a lot that could have been expanded or just given a little more room. But ultimately it was reasonable entertaining and a quick read.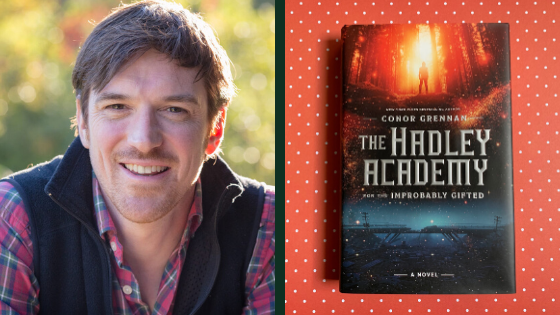 You can find out more about Conor Grennan via his website or follow him on social media: @ConorGrennan on Twitter and @ConorGrennan_author on Instagram.