Review: The Man In The Water by David Burton
This post takes 3 minutes to read
The Man In The Water - David Burton
This review is part of the Aus YA Bloggers Blog Tour and the publisher has provided a copy for review.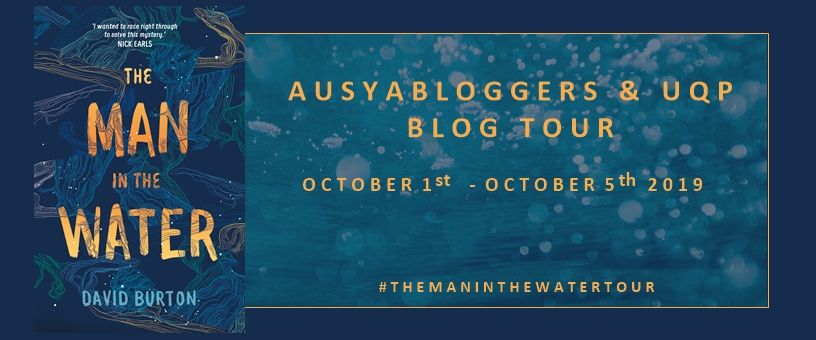 Synopsis
On the first day of year 10, Shaun sees a dead body.
When Shaun finds a body floating in the lake of a quiet mining town in outback Queensland, he immediately reports it to the police. But when he returns to the site with the constable, the body is gone. Determined to reveal the truth, Shaun and his best friend, Will, open their own investigation. But what they discover is far more sinister than they expected, and reveals a darkness below the surface of their small town.
---
Review
Before I get into the review, a content/trigger warning: this book deals with suicide.
The Man in the Water is an enjoyable, fast-paced read that follows the story of sixteen-year-old Shaun who discovers a dead body while skipping school in the remote Queensland mining town where he lives. The plot focuses on Shaun and Will (his best-friend) as they somewhat incompetently try to investigate the possible murder. The intrigue pulls the reader quickly through the story, piling up questions. What happened to the body Shaun saw? Who was he? and how did he end up in the lake? The book repeatedly circles around, seeking answers, edging closer and closer to the ultimate and satisfying conclusion.
I've said it before, but I'm a total sucker for 'kid detective' stories. I love how mysteries, particularly in children and young adult books, are used to hold together explorations of deeper themes. Beneath the surface story of Shaun and Will's investigation lurks a devastating grief Shaun is grappling with, as well as the rippling struggles of a no-longer booming mining town, balancing isolation and community.
Shaun is an immature teenage boy, struggling with complicated emotions. He wants to be a hero for selfish reasons, but he also wants to do the right thing. He loves his mum, but when he's upset he also accuses her of murder and conspiracy. He lies to his best friend to convince him of the truth. All this is depicted in a raw and honest way that is open and compassionate.
Even though you know Shaun saw the dead body, there are moments where you think: maybe he didn't; maybe this is actually about his dad. The truth about what happened to his dad and the way he and his mother had, and had not, dealt with his death, are also revealed as Shaun swims deeper into his investigation.
David Burton skillfully creates different pieces and layers to the story and does a good job of putting them together in a way that is both fast-paced and introspective. There is a strong sense of place permeating the story, including how the characters interact with place and with each other. The remoteness of Shaun's home town stands in stark contrast when they visit Brisbane. Burton also gives the reader an underlying examination of mental health in a way that is sensitive and serious, without being blatantly didactic.
I enjoyed reading The Man in the Water. It explores some important issues while remaining an engaging and accessible story. I particularly appreciated the representation of remote Australia, which is not always around in YA. I also really appreciated the disastrous, but in some ways endearing, experience that is being a teenage boy. In a world that works hard to turn boys into terrible people, we need stories where they're figuring things out, having feelings and learning some self-awareness.
Check out the rest of the blog tour here.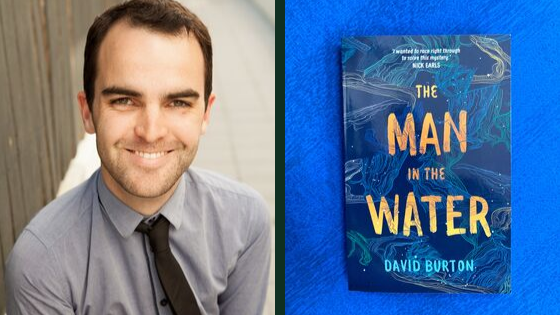 David Burton is a writer from Brisbane, Queensland. By the age of 30, he'd written over two dozen professionally produced plays, published a book, and been a core part of some of the most innovative theatrical projects in Australia. He's now 32, a Dad, and has a new YA fiction book coming out in October, 2019 from the University of Queensland Press titled The Man In The Water.
Find David Burton online via his website or on social media: Twitter @dave_burton or Instagram @daveburtonwriter