Review: The Secret Life of Stars by Lisa Harvey-Smith
This post takes 3 minutes to read
The Secret Life of Stars by Lisa Harvey-Smith
This post is part of the Aus YA Bloggers Blog Tour and a copy of the book was provided by the publisher.
Synopsis‌
We all know the Sun, the powerhouse of our solar system, but what about Luyten's Flare, the Rosino-Zwicky Object or Chanal's variable star? For those whose curiosity takes them far beyond Earth's atmosphere, The Secret Life of Stars offers a personal and readily understood introduction to some of the Galaxy's most remarkable stars.
Each chapter connects us to the various different and unusual stars and their amazing characteristics and attributes, from pulsars, blue stragglers and white dwarfs to cannibal stars and explosive supernovae. With chapter illustrations by Eirian Chapman, this book brings to life the remarkable personalities of these stars, reminding readers what a diverse and unpredictable universe we live in and how fortunate we are to live around a stable star, our Sun.
---
Review
The Secret Life of Stars by Lisa Harvey-Smith is an incredibly interesting and accessible book on astrophysics that is appropriate for teenagers, and anyone with an interest in astrophysics or space in general.
Lisa Harvey-Smith writes in a clear, personable voice. She uses both humour and anthropomorphised stories to explain complex scientific definitions and theories about stars and the cosmos. Throughout the book she also includes anecdotes from her childhood when she was developing an interest in astrology, as well as touching on her studies and research and explaining various historical moments from the field of astrophysics. All these elements work together to assist the reader in understanding both the context in which astrophysics is researched and the scientific explanations of their theories and discoveries.
It includes lots of sciency information you know needs to be included in a textbook but it is written in a much more enaging way than the typical science books I saw at school. As someone who somewhat gleefully dropped all science after year ten, and probably should have dropped maths as well, I am still very interested in science as long as it's explained in a way I can understand (also really helps if I'm not being graded on it). I particularly like that she explained different theories, and in which ways they are plausible or unlikely, while also being clear about which areas are still being discovered and what has been able to be replicated and observed by scientists.
The book is structured in chapters that you could easily dip in and out of – though they are probably best read in order – each with a gorgeous little illustration above the chapter name. Each chapter covers a particular topic (such as the sun, supernovas or black holes) but they also fit together in exploring what stars are, and how they fit into our understanding of the universe. My personal favourite was Enigmas – the story of Tabby's star – I like that there are things science hasn't yet been able to explain (but they keep trying). I also found the chapter on black holes a little scary, but also very surprising – who knew the very little information I thought I had on the topic was mostly incorrect.
Science communication is seriously important, and can often be underrated, and so I love that Lisa Harvey-Smith is doing the work to make her field more accessible, both for kids who might pursue a career in the future, or just anyone with an interest in learning more about the world. Overall space is still pretty scary to me, but I feel like I learnt a lot, and it's definitely the sort of book that could prompt interesting conversations, and would be easily picked up again and again for reference. I hope to see more books like this in the future.
Don't forget to check out the other tour stops.‌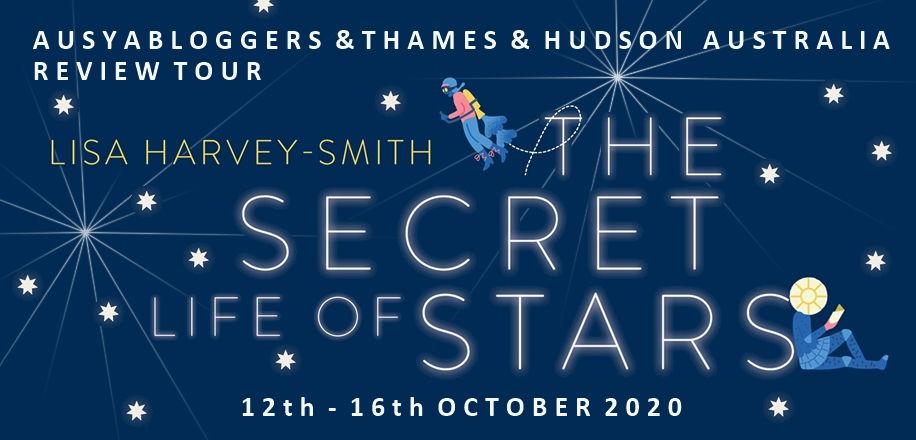 ---
Lisa Harvey-Smith is an award-winning astronomer and Professor at the University of New South Wales. In 2018 she was appointed as the Australian Government's Ambassador for Women in Science, Technology, Engineering and Mathematics (STEM). She is the author of When Galaxies Collide and best-selling children's book Under the Stars, both published by Melbourne University Press. Lisa is also a regular on national tv/radio/media, and has appeared in several TV series and documentaries as a guest scientist and is a presenter alongside Prof. Brian Cox on ABC TV's Stargazing Live.
You can find Lisa online via her website and on social media Facebook, Instagram or Twitter.