Review: All That Impossible Space by Anna Morgan
This post takes 4 minutes to read
All That Impossible Space by Anna Morgan
This review is part of the Aus YA Bloggers Blog Tour. A copy of the book was provided by the publisher. Check out the rest of the tour here.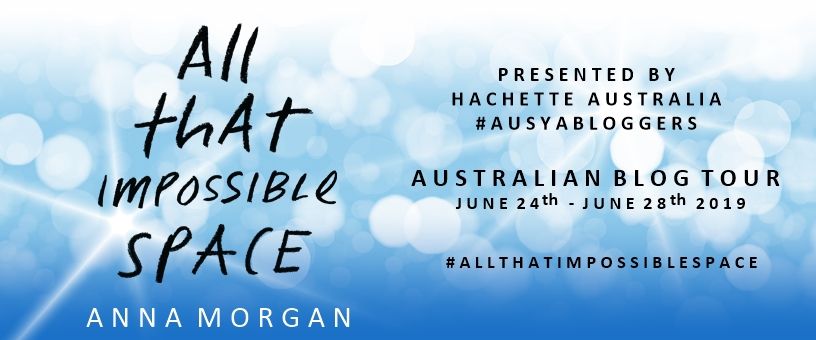 Synopsis
Amelia Westlake meets My Favorite Murder in this debut from a terrific new voice in Australian YA. Combines a realistic story about high school drama and toxic friendship with true crime - the endlessly fascinating Somerton Man or Taman Shud mystery.
15-year-old Lara Laylor feels like supporting character in her own life. She's Ashley's best friend, she's Hannah's sister-she's never just Lara.

When new history teacher Mr. Grant gives her an unusual assignment: investigating the mystery of the Somerton Man. Found dead in on an Adelaide beach in 1948, a half-smoked cigarette still in his mouth and the labels cut out of his clothes, the Somerton Man has intrigued people for years. Was he a spy? A criminal? Year 10 has plenty of mysteries of its own: boys, drama queen friends, and enigmatic new students. When they seem just as unsolvable as a 60-year-old cold case, Lara finds herself spending more and more time on the assignment. But Mr Grant himself may be the biggest mystery of all...
Interspersed with fictionalised snapshots of the Somerton Man investigation, ALL THAT IMPOSSIBLE SPACE is a coming of age novel exploring toxic friendships and the balance of power between teacher and student, perfect for fans of Cath Crowley and Fiona Wood.
---
In her terrific debut novel, All That Impossible Space, Anna Morgan uses the real life 1940s mystery of the Somerton Man as a device for exploring toxic friendship, complicated family, and discovering a little romance.  From the moment I read the publisher's synopsis, this was an automatic pick up for me. I love YA and mysteries and I really enjoyed Amelia Westlake, so that comparison resonated (and which I think was very apt).
One of my favourite kinds of stories is what I like to call 'kid detectives' - I love a good mystery, and there is something about the way a mystery can be used to draw out common themes in kids stories that I particularly enjoy. I think All That Impossible Space could be considered the older sister of the kid detective story. The mystery that Lara is investigating draws out the complexity of what she is dealing with, as well as providing believable and compelling plot points.
In All That Impossible Space, Lara Laylor is embarking on the complicated experience that is Year Ten.  On top of dealing with a dominating best friend, an absent sister and seemingly unconcerned parents, Lara is navigating new friendships and a potential romance all while unenthusiastically participating in the school musical. Thanks to an intriguing new teacher, Mr Grant, she becomes obsessed with the mystery of the Somerset Man and things begin to get out of control.
I found the use of the Somerton Man mystery to be a clever narrative device. The story of this real-life mystery is shared both through Lara's theories and discoveries throughout the story and through sections of the original events carefully dispersed through the book (these were written with acknowledged creative licence but based on the known facts of the case).
Lara is a really endearing character, I particularly liked how complicated things were in her head and how she worked through them. I felt this was a strongly genuine experience of a teenager. There were a few moments where I had a visceral reaction remembering how it felt when I was younger, navigating the confusion and intensity of emotions and relationships.
The relationships in this book were wonderful. I loved the various character's dynamic with Lara and with each other. They all felt very genuine. I thought Jos was incredibly sweet and I loved his interactions with his family. I liked that he was quite confident without being obnoxious, and the slowly developed friendship and feelings was just utterly heartwarming. The Harry Potter thing totally destroyed me. I was complete mush and my face hurt from smiling so much.
The juxtaposition of Kate and Ash was excellent, demonstrating the complexity of Lara's insecurities and understanding of friendship. I thought that Anna Morgan did a fantastic job of really teasing out the ways Ash manipulated Lara, without having to spell it out. It was really well written. She also managed to demonstrate the family dynamic skilfully, without having to explain it. I loved how Lara worked through missing her sister and being mad at her parents, especially the culmination of this - no spoilers :D.
I thought the subtleties of the school structures and management, as well as the mystery of Mr Grant was really well done, and I particularly appreciated the way she wrote Lara grappling with how she felt about it.
I appreciated the way the story ended, I think if you're looking for a very neatly tied up Agatha Christie style mystery you might want to shift your expectations a bit, but will probably still have an enjoyable reading experience. I certainly did.
This is a well structured and riveting #LoveOzYA novel that has a similar feeling to Take Three Girls or Amelia Westlake and taps into the broad themes explored in young adult in an individual and specific story. And I will be getting this for my mystery-loving fourteen year old sister as soon as possible.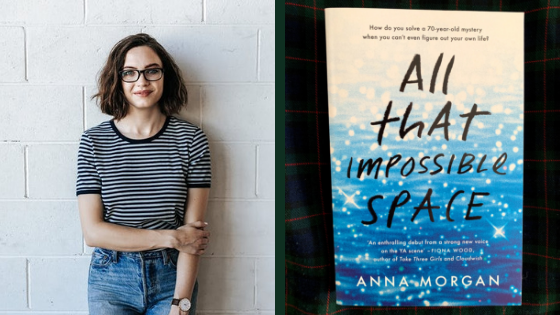 Make sure to check out the other posts in the All That Impossible Space blog tour.
You might like these #LoveOzYA reviews:
P is for Pearl - Eliza Henry Jones