Review: Deep Water by Sarah Epstein
This post takes 4 minutes to read
Deep Water - Sarah Epstein
I received an advanced reader copy from the publisher.
Synopsis
HENRY WEAVER IS MISSING
Three months ago, thirteen-year-old Henry disappeared from The Shallows during a violent storm, leaving behind his muddy mountain bike at the train station.

MASON WEAVER IS TRAPPED
While Mason doesn't know who he is or what he's capable of, he knows the one thing binding him to this suffocating small town is his younger brother, Henry.

CHLOE BAXTER WANTS ANSWERS
Why would Henry run away without telling her? One of Chloe's friends knows something and she's determined to find out the truth.

As Chloe wades into dangerous waters and Mason's past emerges, a chilling question ripples to the surface: how far would you go to keep a secret?
---
Review
I cannot overstate how excited I have been about this book. Sarah Epstein's first book Small Spaces is one of my favourite books (review here), and I have been anticipating her follow up for such a long time I can't even remember when I first heard about its existence. I am so grateful to Allen & Unwin for sending me an advanced copy.
Deep Water is a compelling and immersive story filled with suspense. Genre boundaries are somewhat subjective, but I would say Deep Water leans a little more towards mystery than Small Spaces did, with slightly less intense psychological thriller elements. Both are resonant with expertly crafted suspense and uncertainty. If Small Spaces was too scary for you, then I still think you could give Deep Water a try (unless you really can't cope with missing children stories).
From the first few pages, I was once again blown away by the writing quality in Deep Water. All the important features of an excellent thriller are expertly utilised. You are immediately thrust into a thrilling and captivating story with complicated characters, a vivid small-town setting and impeccable pacing.
The story is told through two points of view: Chloe, in the present tense, as she returns to The Shallows determined to discover where Henry went; Mason, months earlier, in the lead-up to his brother's disappearance. Both perspectives work together to construct a picture of what happened. They both reveal and obscure the true details of Henry's disappearance with perfectly placed clues (and red herrings) while also building up confusion about which characters to trust at the same time as you come to know and sympathise with them.
Sarah is just so incredibly good at constructing a compelling and immersive reading experience, imbued with uncertainty. Throughout the book, you routinely feel perhaps you know what has happened only to reconsider in the next chapter. It straddles the fine line of a surprising ending, that is wholly believable once you reach the last page - and ending that you can't predict but once it is over you go 'of course!'
One of the things I really like about Sarah's writing is she somehow manages to construct a story that is plot-driven - it's a mystery and you want to work out all the clues and find out what happened - but underneath, the story actually builds through the characters and their relationships. This skilful combination really elevates the whole reading experience. I suspect this feature of her writing is a reason why she is nominated for so many awards.

As in all good YA literature, Deep Water has a group of teenage characters underpinned by complex hopes, fears and life experiences that influence how they move through the world. Elements of different relationships (friendships, family and romantic) build throughout the book, adding to the depth of the story. The characters lives touch on a range of issues without being didactic. This is particularly clear in the way the sensitive issue of abuse is dealt with throughout the story. The experiences Henry and Mason face at home are gradually revealed and work as a very clever plot device, without being flippant or gratuitous about such a serious and important issue. I happened to read Deep Water while I was in the middle of Jess Hill's incredible book See What You Made Me Do, which really heightened this aspect for me. I think Sarah did a good job writing a story that included the realities of an abusive situation, avoiding gratuitous detail and thoughtfully reflective of the extent of the damage done. I can imagine for some people, it could still be too much to read, but I think it was clearly written carefully.
In conclusion, you should read this book. It is an excellent mystery, full of twisty uncertainty, compelling characters and is beautifully written. An extremely satisfying reading experience.
Oz Authors Online will be launching Deep Water tomorrow (Friday 10 April), you can join the online launch here at 6:30pm AEST. If you miss it you can view the recording on their YouTube channel.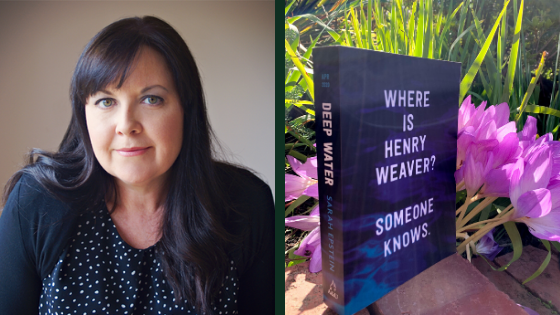 Sarah Epstein is a writer, illustrator and designer. She grew up in suburban Sydney and now lives in Melbourne with her husband and two sons. Her first novel Small Spaces, a YA psychological thriller, won Best YA Crime Novel at the Sisters in Crime Davitt Awards and the Adelaide Festival Award for Young Adult Fiction, and was an Honour Book at the Children's Book Council of Australia Book of the Year Awards. It was also short-listed for another six awards including the NSW Premier's Literary Awards, the Queensland Literary Awards and the Australian Book Industry Awards.